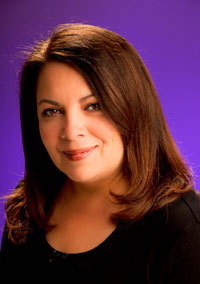 Debra Battenfeld
Debra's Journey
Debra remembers from a very young age her ability to leave her body and not only roam through her home during the night, but to travel and visit her loved ones in the spirit world. Her connection to her Creator and her Angels has been a vital part of her since she can remember. Her ability to understand the sacred nature of every soul she meets and connect to their deepest needs brings joy to her heart.
In her early forties, Debra's Guides and Angels began their mission of bringing her awareness to greater heights and purpose. They brought to her attention the fact that the abilities she had known and considered "norml" were indeed special gifts, and that she needed to prepare for helping others. She became aware that she had legions of Angels around her at all times, and that her purpose had always been, and always will be, connected to Angels and Master Teachers. Her ability to see her own and others' Angels became constant, and souls who had crossed over began to appear everywhere. Bookstores became her haven, as she read countless books on mediumship and psychic abilities in her quest to finally understand who she was.
In preparing to help others, Debra studied psychic development with Echo Bodine. Upon completion of her studies with Echo, she knew that she was ready to take the next step. But how to begin? She knew intuitively that the biggest step would occur the year she turned fifty, and during that year, Debra embarked upon her journey as a professional Psychic/Medium with the group Psychics in the Cities.
Soul Transitioning
After a few years with Psychics in the Cities, Debra became aware of a special ability to help others begin their transition to the other side. She herself had journeyed out of body to experience the unconditional love, beauty and joy of being surrounded by all of her spirit friends. She realized that she was allowed this experience so that she could help ease the fears, doubts and uncertainties of those facing the end of their contracts on the earth plane. Debra's mediumship abilities enable her to connect people who are transitioning with the Angels and loved ones who await them, and to help them make a plan on what they want their Heaven to be like. She calls this loving service Soul Transitioning.
How Does Soul Transitioning Work?

A Soul Transition tends not to the medical needs of those who are about to cross over, but to their spiritual needs. The loving assistance that Debra is able to give to a Soul Transition client comes directly from her gift of mediumship and her ability to communicate with the client's Angels, Guides and loved ones who reside in spirit. She will sit quietly with the client, and open up to what Spirit has to share with her about the client's next step. She often sees how the client's soul will leave their body when the time comes, as well as who awaits them as they transition. For example, while helping a client make a transition plan, Debra has seen the client's first husband come to meet her, holding out his arms to embrace her, and watched as the client's soul stepped out of her body to join her loved one.
Debra feels it is important to have a plan detailing what you want your Heaven to look like, who you want to meet you there, and how you will leave your body as you transition. She is able to help you envision your Heaven and what your surroundings will look like. She will sit with you for as long as you need to answer your questions and listen to all you have to say. The time she spends with you is quiet, safe and surrounded with light and love. She will help you lose any fears, doubts, or worries about the next step of your life, so that these fears and doubts do not encumber you in spirit.
Debra points out that, as humans, we would never go on vacation without knowing where we are going to stay, who will be with us, and exactly how we will be getting there. So it is with crossing over. Having a detailed plan makes the whole journey go more smoothly. "When it's our time to go," Debra explains, "it can be as easy as getting in a taxi and saying, 'Take me home.'" And while going home after a vacation always feels so good, going to our Heaven home even feels better, Debra says. "What awaits us should not be confusing or scary. It's the trip of a lifetime."
(If you are interested in Soul Transition for yourself or someone you love, please call Debra for details. She can be reached at 612-805-3402. If she is not able to answer, please leave a message and she will get back to you at the earliest opportunity.)
As a Lightworker with a mission to help others, Debra lives her life in light. She is aware of this light in each individual she encounters. She desires to help others to recognize and connect with the beauty of their souls. Her gentle manner and her understanding of each individual she works with will make you feel comfortable and leave you feeling Enlightened.